March 22, 2019
As requested by my students, I have decided to offer a course in Buddhist contemplative practice over 2 consecutive retreats in 2019 and 2020. The first retreat will be open to all with a genuine interest in seriously pursuing the path of the Buddha Dharma. The second will be a continuation of the first and ONLY open to those students who attended the first retreat.
The first retreat will be from September 28th to October 6th (Saturday night to Sunday morning) 2019. Please note that these dates are different from our original projected dates and will be our final dates. I will base these precious instructions on a compilation of teachings given by Khenpo Ngawong Palsang (Khenpo Ngakchung) to his disciple, Nyshol Khandro, Samten Dronma, Quintessential Instructions Sealed Within the Depths of my Heart, secret words meant for continual practice (Tukdam Narma). These teachings cover the entire range of Buddhist contemplation. They begin with the four thoughts that turn the mind toward spiritual practice, how to rely upon a spiritual guide, refuge, bodhicitta – the wish to awaken for the benefit of all, and the purification practice of Vajrasattva, mandala offering, and guru yoga. Continuing with pith instructions for creation phase yoga, completion phase practices relating to the subtle channels and breath, and conclude with unique guidance for the practice of Dzogchen, the great perfection.
Those wishing to attend these teachings should have completed the entire preliminary practices (ngondro) including the 5 X 100,000 (Refuge prayers, Prostrations, Bodhicitta pledge, Vajrasattva, Mandala offerings and the extensive Guru Yoga practices) or must commit to finishing them within this lifetime if physically possible. I am looking forward to spending special time with you. With best wishes, blessings for your upcoming holidays and always.
Sogan Rinpoche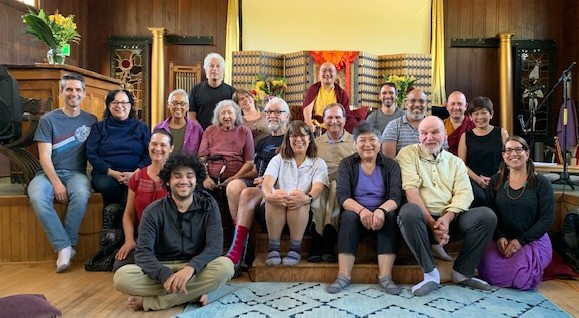 Sangha during 2019 Retreat