Dharma Teachings
2012-2013
"Truly, Dzogchen, the Great Perfection, is powerful and skillful method by which even the sinner may come to that path which culminates in Buddhahood"

H.H. Dudjom Rinpoche
Italy
Fall 2013: Students take refuge with Ven. Sogan Rinpoche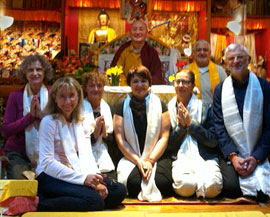 During September, 2013 these students took refuge with Rinpoche at Tupten Osel Ling, his Dharma center in northern Italy.
Los Angeles
Saturday, September 15, 2012
Creating Mindful Happiness in Everyday Life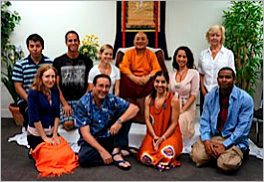 In this afternoon teaching, Sogan Rinpoche discussed basic concepts of Buddhism and presented practices to help us meet life's challenges with stillness and clarity.
Oakland, CA
Bodhisattvacaryavatara
Saturdays: October 12, 26; November 2, 2013
Root text – by Shantideva
Commentary – by Kunzang Pelden based on Patrul Rinpoche's commentary
"How can the positive force

of a jewel like mind,

Which is the cause of

happiness for all wandering beings

And the elixir for the

suffering of limited

beings,

Be something whose

measure can be taken?"

-- Shantideva
Written by the Mahayana poet and scholar Shantideva in the 8th century AD, the Bodhisattvacaryavatara, (English: A Guide to the Bodhisattva's Way of Life) is one of the great masterpieces of religious literature. Presented as a long poem, it is a guide to cultivating the mind of enlightenment through generating the qualities of love, compassion, generosity and patience. In ancient times there were at least a hundred commentaries on the Bodhicaryavatara and its popularity has continued down to the present.
During the upcoming sessions in Oakland, Ven. Sogan Rinpoche will continue his teaching on Kunzang Pelden's commentary on the Bodhisattvacaryavatara which he started in 2012. Kunzang Pelden's commentary is known in English as The Nectar of Manjushri's Speech, and it is a compilation of the pith instructions of his teacher Patrul Rinpoche.
The Nectar of Manjushri's Speech (Shambhala: 2010) is available for purchase from Namse Bangdzo Bookstore.
Northern California Retreat
Residential Retreat, June, 2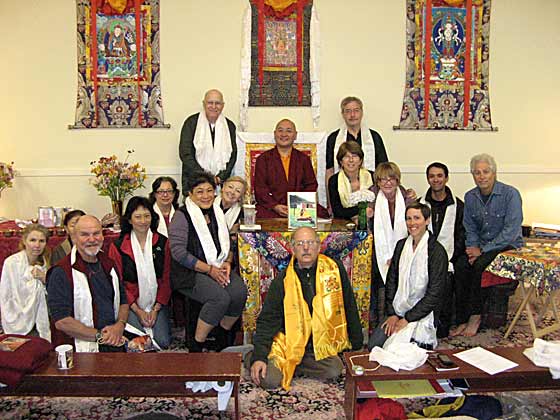 For one precious week in June, 2012, students of Sogan Rinpoche gathered for a silent retreat at the Padmasambhava Peace Institute, a beautiful facility in the hills overlooking the Pacific Ocean in Sonoma County, north of San Francisco.
During this retreat Rinpoche gave teachings on The Treasures of the Nying T'ik (Longchen Nyingtik preliminary practices), Je Mipam's The Treasure of Blessings of the Ritual of Buddha (a Shakyamuni guru yoga), Phowa, The Shower of Blessings from Mipam Rinpoche and the Chenrezig practice which was taught by Tulku Nyima Gyaltsen and Rinpoche in Oakland in 2008.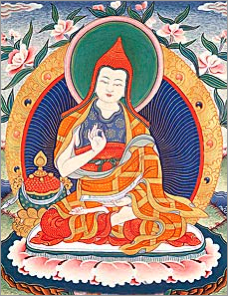 Shantideva
Bodhisattvacaryavatara
DATES
Saturdays: October 12, 26; November 2, 2013
TIME
1 - 5 p.m.
LOCATION
Tibetan Center for Compassion and Wisdom
610 16th Street (at Jefferson), 2nd floor
Oakland, CA 94612
(Near 12th Street Oakland City Center BART Station)
Abundant free parking is available directly behind the building. Please be careful not to park behind the adjacent building or between the buildings, as your car might be towed.
All are welcome. Suggested donation: $30 per day (or as able). No one turned away for lack of funds.
Have a question? Just send us an email.
Summer, 2012 –
The Bodhisattvacaryavatara
Rinpoche gave the first four teachings on The Nectar of Manjushri's Speech during 2012.

TEACHING DATES
Saturday: July 28, 2012
Sunday: August 12, 2012
Saturday: August 25, 2012
Sunday: September 9, 2012
MAUI, HAWAII
Bodhisattvacaryavatara
October 19-21, 2013
6 - 9 p.m.
This talk is a rare opportunity to hear one of the world's leading Great Perfection masters speak on one of the most renowned texts in Mahayana Buddhism, Shantideva's masterpiece, the Bodhisattvacaryavatara.
RSVP: Richard Josephson
[email protected] for more info and to register.
RENO
Merit and Why We Need It
Sunday, August 19, 2012
1 - 4 p.m.
Sogan Rinpoche will cover aspects of the generation and accumulation of merit and how it helps our practice.
SUGGESTED DONATION: $20 - $25
All are welcome to the teaching, and no one is ever turned away for lack of funds.